The Wide Range of Usage of Rigging
Rigging, in engineering terms, refers to the act of suspending heavy objects or equipment from one level to another, up or down, with the aid of suspended cables, ropes, trusses and spreader beams. Rigging is regularly applied at conferencing, events and other aspects of entertainment. Event technicians and service consultants apply a range of technical knowledge and experience to determine the safety and success of their temporary structures.
Structural Analysis in Rigging
When designing and planning rigging work for entertainment, having a rigging software will make your life much easier. A lot can go into the design of rigging structure, including lighting design, sound design, set design, anchor points, dynamic loading and specifications for the venue. Clients often want more weight, for less anchor points which can be a difficult balance to achieve - particularly working by hand. The nature of this temporary work, means you need to be able to design these staging structures in an efficient manner. An easy-to-use structural engineering software will help you calculate and analyse the safety of your rigging structure in a matter of seconds.
Comprehensive and Clear Reporting
The planning must take into account the loads applied to the system by the weight of fittings, equipment and other items. This must take into account the capacity of all elements including trusses, hoists and points of attachment. In a matter of seconds, you can have your anchor points (and their reaction forces) analysed under complicated structures and loadings. Further analysis can also be done, under single truss spans using a Single Member Report, where you might want to triple check the safety of a sensitive point. With powerful cloud structural analysis software, bring your laptop with you anywhere, and mock up quick drawings and analysis of the rigging structures on the spot! From quick checks to complex projects, SkyCiv has you covered. In a matter of minutes you can start calculating anchor point reaction
Why SkyCiv?
Powerful and Easy-to-use Structural Engineering Software
Reaction and Anchor Points
Design and analyse reactions and anchor points in a matter of minutes. Ditch the hand calculations and work fast with 100% result accuracy!
Anchor points are clearly displayed in the UI with reaction forces and weights clearly displayed in the graphical UI or the PDF reporting.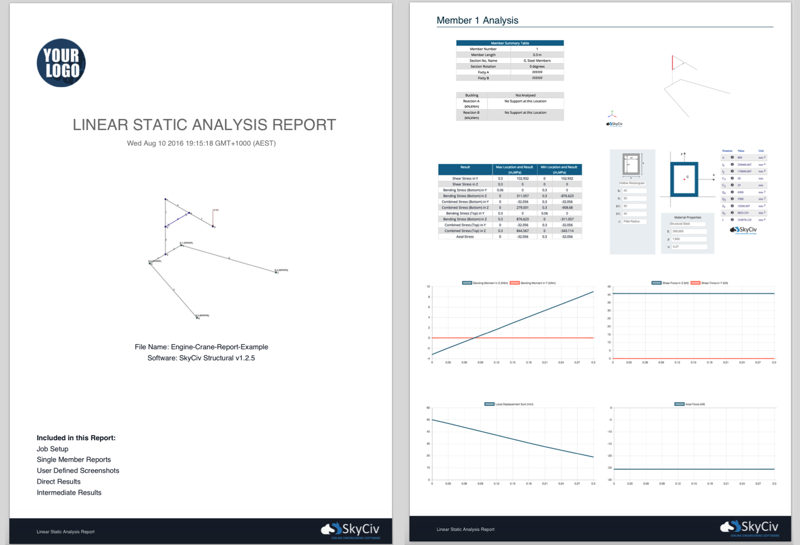 Weight Reports
Export a summary of the anchor points and their weights in a clean, professional PDF report. No longer outsource these weight reports when you can produce them yourself in minutes!
Hand your reports over to conference engineers, colleagues and clients - showing professional reports and results on your structure design.
Tried and Tested by Real Engineers around the World
Benedick Miller
 is a qualified master event technician with years of experience working with different entertainment rigging companies all around Europe. "I use SkyCiv 
Cloud Structural Engineering Software
 for load calculations for entertainment industry rigging, for trade shows and live events. This involves hanging of temporary truss structures to suspend lighting, audio and video equipment and scenic elements. As well as construct free-standing "ground-support" truss structures."