Software for Structural Engineering
Design and Analyze Complex Structures: achieving improved project efficiency and great client satisfaction.
Quick Analysis
Custom Reports
Full 3D Analysis
The Work of Structural Engineers
As structural engineers, your work is very versatile and can be quite demanding. Structural engineers are usually trained years to understand, predict, and calculate the stability, strength and rigidity of both building structures and nonbuilding structures; develop designs and integrate their designs with that of other designers, as well as supervise construction of projects on site.

The fields structural engineers work in is also varied: some structural engineers work on the design of structures (carrying out the strength calculations and supervising drawings), others specialise in the building of structures, and some work in research.
What Software is Best Suited for Structural Engineers?
In general, working in teams is very common for structural engineers, therefore collaboration and reporting are essential for their work to be effective and productive. SkyCiv's powerful structural analysis tool not only allows structural engineers to carry out complex modelling work (from individual structural elements of a structure ie beams, columns, and floors of a building; to entire system such as buildings and bridges, tunnels and walls), but also enables great productivity via advanced modelling features, collaboration function, as well as software integration.

Powerful
Easy to Use
On the Cloud
Compatible with all platforms
Why SkyCiv
Powerful and Easy-to-use Structural Engineering Software
Full 3D Analysis
Your structure can be analysed under a range of features and results; including Reactions, Internal Forces, Stresses, Plate Analysis, Buckling, P-Delta and much, much more. View your results in our 3D renderer to aid in identifying critical areas using colored contour results.
Easy Modelling
Speed up your modelling in SkyCiv's structural analysis software, with many advanced easy to use features that allow you to model your structure much faster and easier.
Enter nodes, members and plates using mouse click functions
Run Repair Model to quickly locate and repair issues with your model
Use the pen tool to draw and snap to global axes
Use the SkyCiv Datasheet (much like a spreadsheet) to enter data in quickly
And more.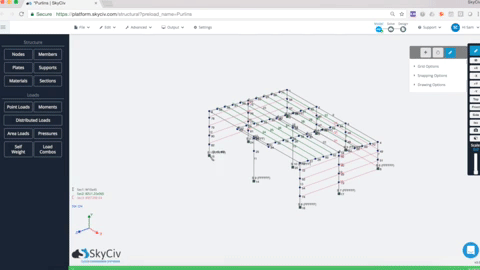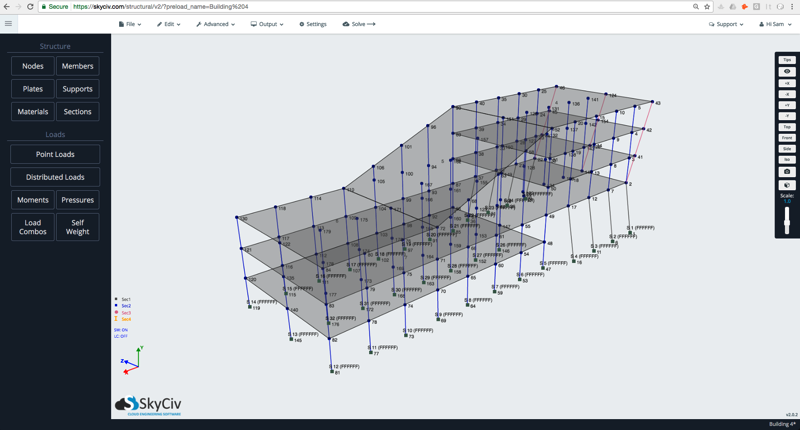 Quick Analysis
From quick checks to complex projects, with our 2D and 3D structural software you can model and analyse beams, shafts, truss, frames and any structure. Our user friendly interface allows you to get your results quick and easy, with Reactions, Axial, Bending Moment, Deflection, Shear Force and Stress available in minutes! (How beam analysis can be solved in under a minute.)
Customs Reports
Export single member analysis reports in a clean and professional PDF format. Include your own screenshots and easily share it with other engineers or clients. With a Professional Account, your logo will also appear at the top of the report - branding your company as a quality and professional service.