Wind, Snow, and Seismic Load Software
Use the SkyCiv Load Generator to quickly and easily generate wind, snow, and seismic loads based on a variety of codes for your project's design criteria. Take advantage of the easy user interface to get through the calculation effectively, then print out the site reports or design load reports to a PDF for later use as a deliverable. Directly apply the design loads from the Load Generator onto your project's 3D model in Structural 3D.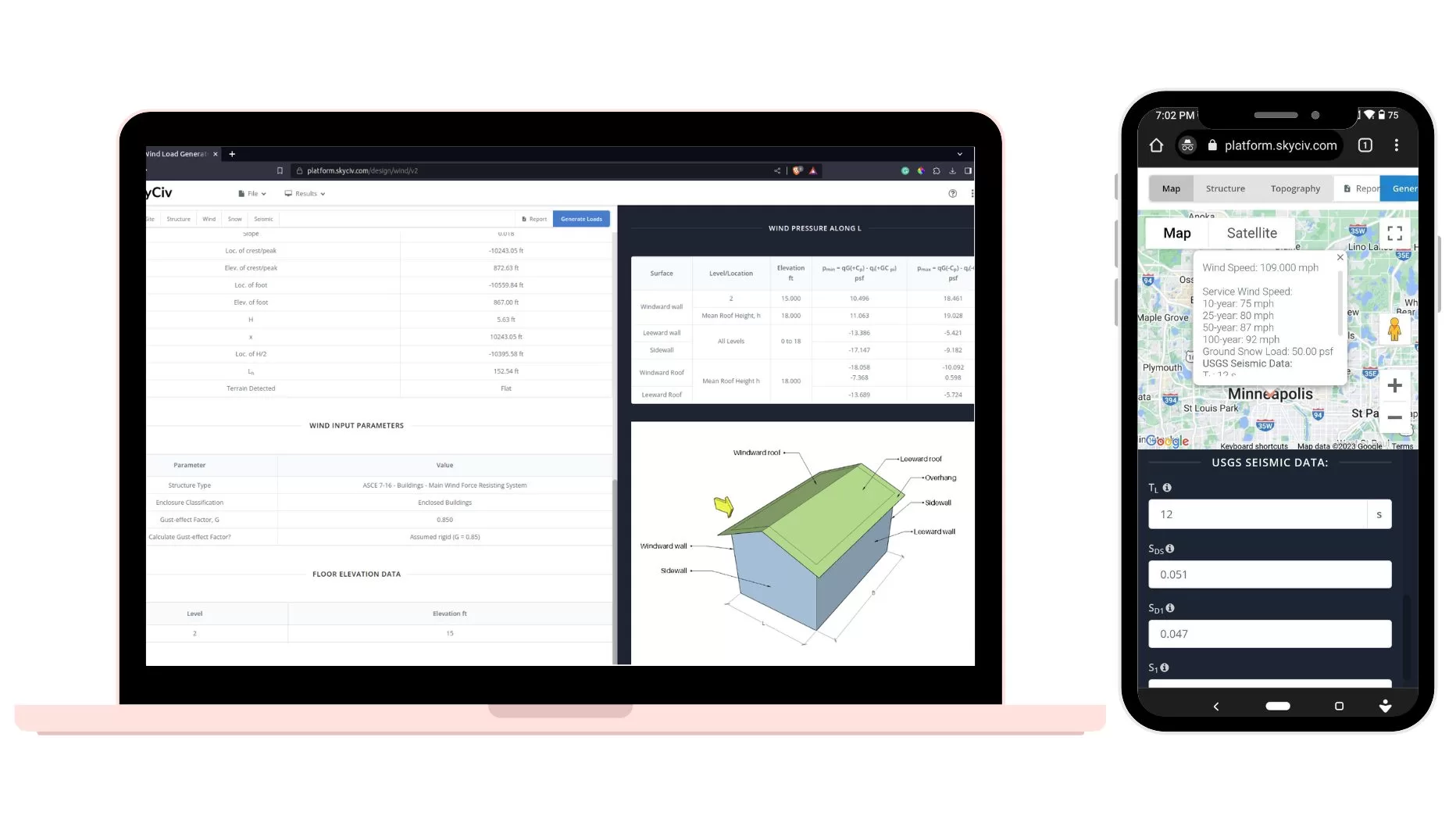 Discover key features of SkyCiv Wind, Snow, and Seismic Load Module
Wind speeds, Elevation Factors, Wind Pressures, Snow Pressures and more...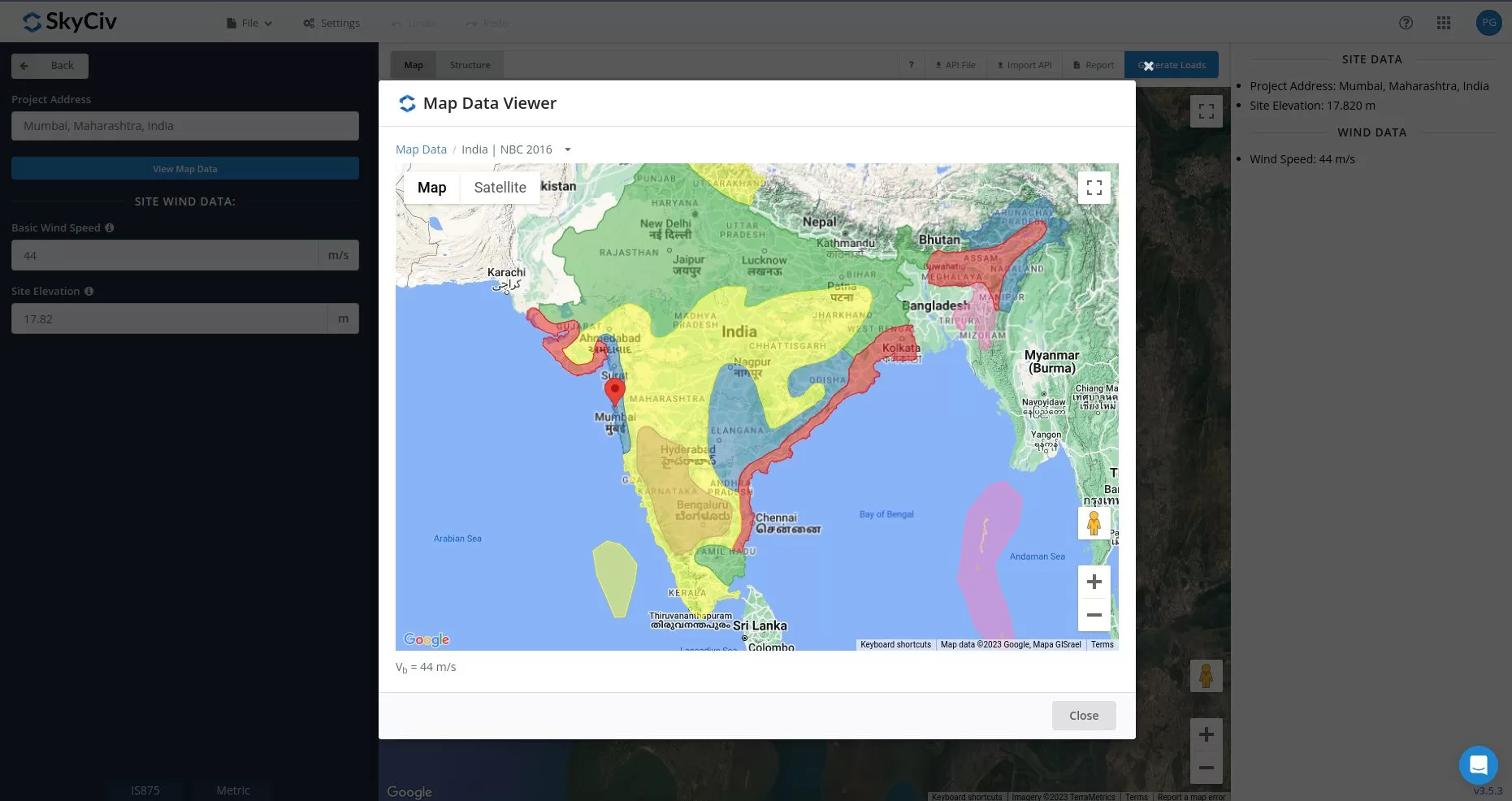 Get design wind speeds
Simply enter the location, zip code, or latitude/longitude of your project
Simple options for importance levels, risk categories, and more
Click and drag the pin to calculate wind speeds quickly
Auto calculation of Terrain Data, including topography factors
Clear elevation profile graphics to show site terrain factors
Currently Supports: ASCE 7-10, ASCE 7-16, ASCE 7-22, AS/NZS 1170, NBCC 2015, NBCC 2020, EN 1991-1-4, IS 875-3, NSCP 2015, CTE DB SE-AE, and CFE
Calculate wind design pressures
Once the wind speed has been calculated (or manually entered by the user) you can then proceed to enter building information such as the type of structure and relevant structure parameters to calculate the wind pressures on your structure.
Full calculation of design pressures and elevations on walls and roof
Windward, Leeward, Sidewall, and roof pressures
Calculation of pressure for roof and wall components and cladding
Topographic, Directional, Gust, Exposure coefficients
Clean and professional PDF reporting, with detailed results
Currently Supports: ASCE 7, AS/NZS 1170, NBCC, EN 1991, IS 875, NSCP, CTE DB SE-AE, and CFE requirements.
Structure Types*: Buildings (open and closed), signs and billboards, free-standing walls, etc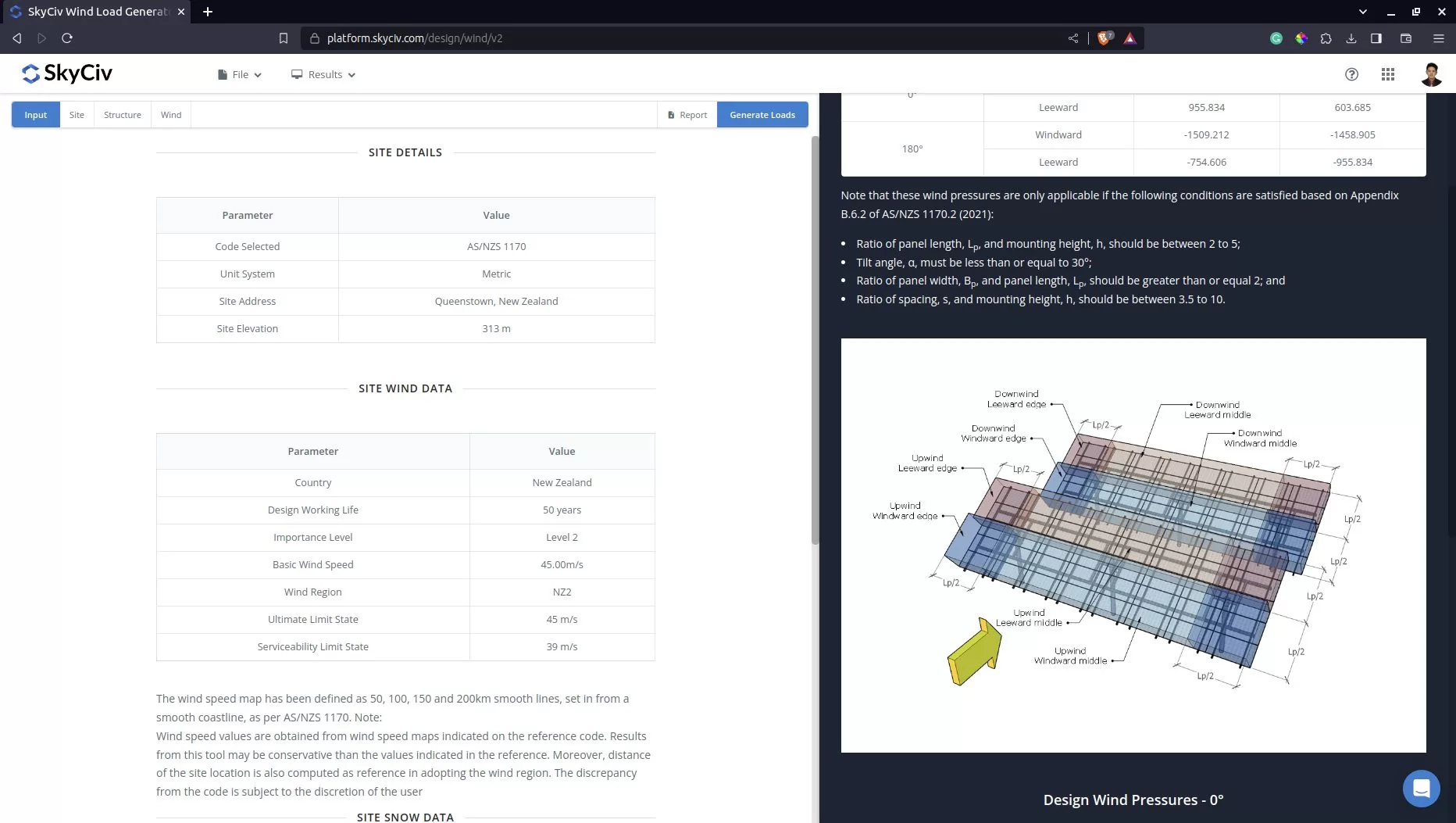 *Depends on design standard selected
Automatic snow loads
The SkyCiv load generator will also calculate the design snow loads and snow pressures required to be applied to your model, including:
Generate snow loads for your structure - from simple roof case to roof with projections and multilevel roofs
Snow load cases for gable, mono slope, and multilevel roofs
Simplified and intuitive snow load result figures
View snow load contours on the map viewer
Add multiple load cases for easier calculation
Clean and professional PDF reporting, with detailed results
Currently Supports: ASCE 7-16, NBCC, Eurocode, and Australian Standards
Apply directly to your model
The SkyCiv Wind Load module is completely integrated with SkyCiv Structural 3D, so you can instantly apply your design pressures to your structure. The structural design software will auto calculate the tributary widths and apply DLs quickly and easily. Generate and check your wind load in a few clicks!
Simple node entries to apply the wind pressures
Dynamic Loading - as the structure changes, the wind loads adjust themselves
Auto apply load combinations and factors
Auto calculates tributary widths and applies DLs to internal members
Edit, Remove, or Adjust wind loads at any time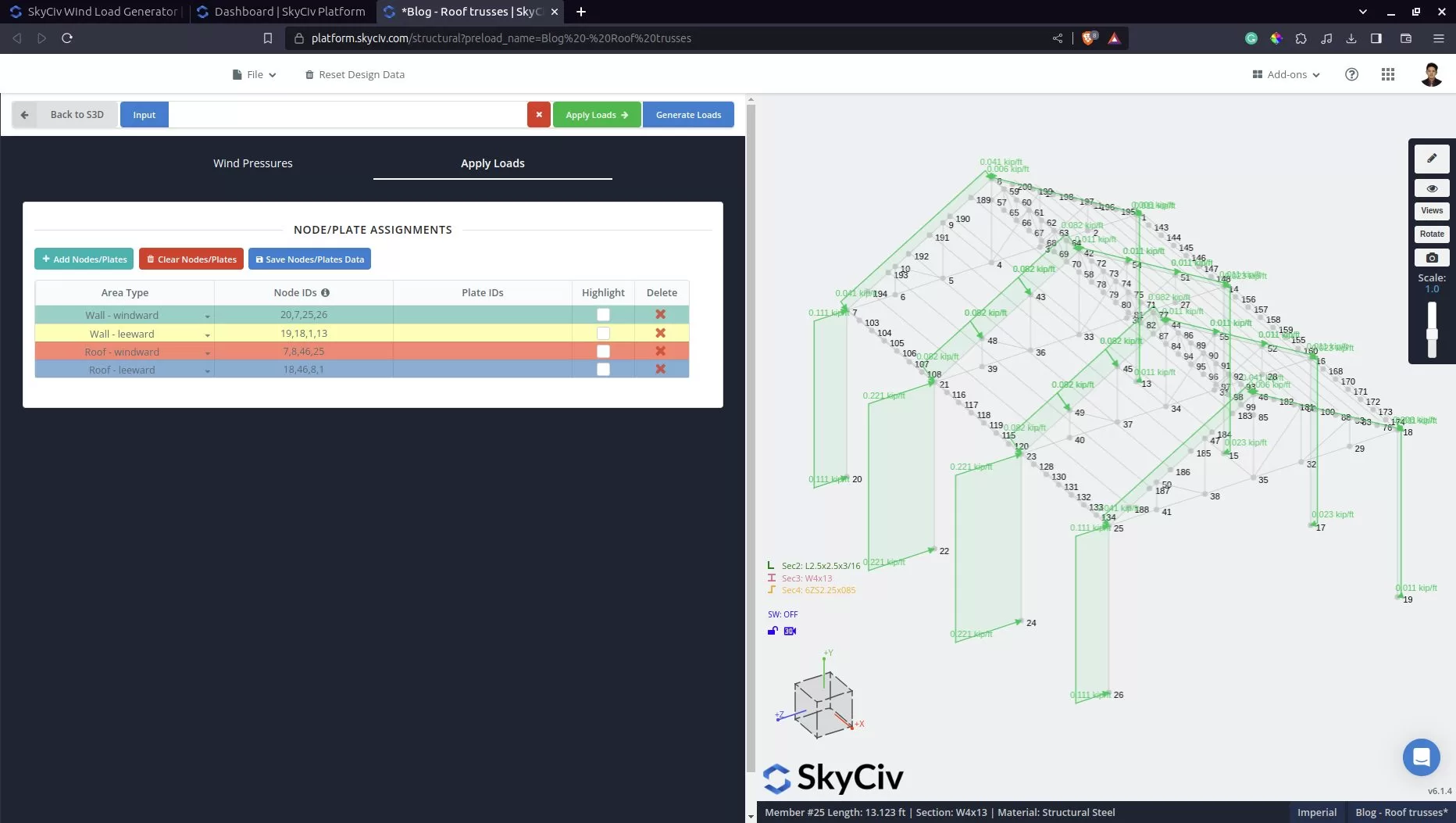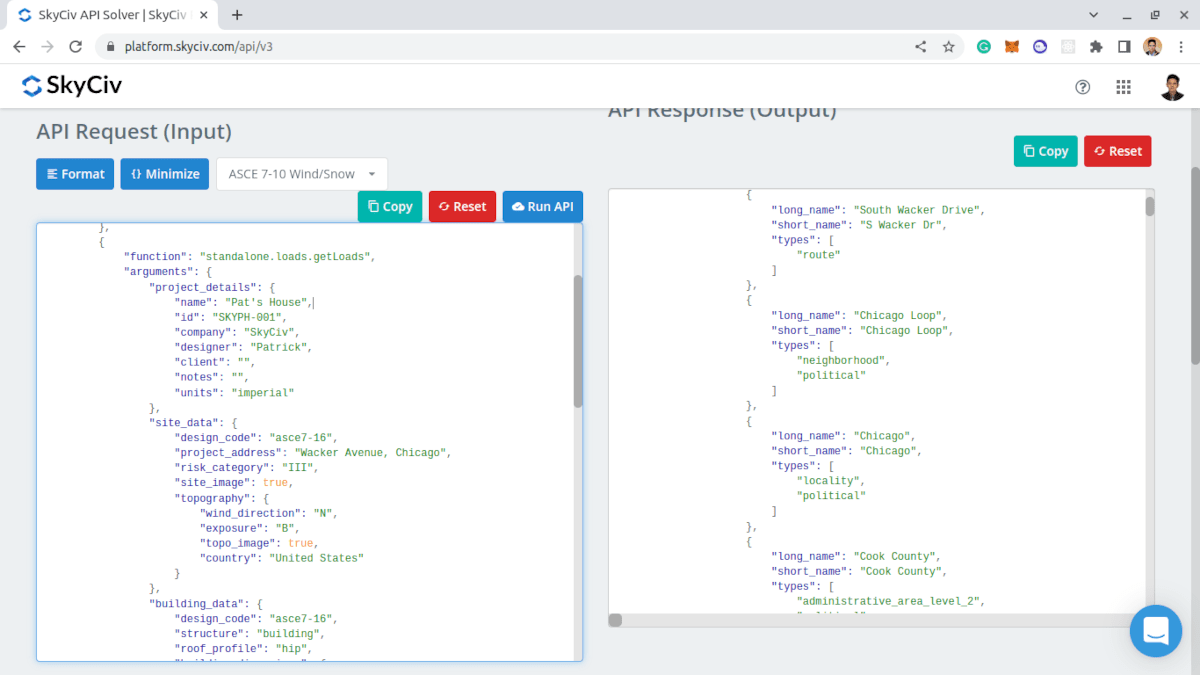 API access
The SkyCiv Wind, Snow, and Seismic Load API Supports direct access to this technology with a simple HTTP request. This means you can get your wind speeds, pressures, snow pressures, seismic loads, and more with a direct API call, including:
Use API to get the wind speeds and snow loads of the structure based on the address
Use API to generate the wind and snow pressures
Use API to calculate the seismic loads (ASCE 7-16)
Returns full summary and detailed PDF reporting
Perfect for design automation
Detailed design reporting
The SkyCiv Load Generator module includes clean and powerful reporting, with different levels of detail - depending on your needs.
Wind speeds and loads are accompanied with map information, step-by-step calculations of the elevation and design factors (such as topography, directional, gust, exposure coefficients) as well as the final design pressures and results. Perfect to include with your project documentation.
Snow design pressures also include step-by-step factors such as exposure, thermal, importance and many more, depending on your design code of choice. The final snow load is also provided for clear and concise reporting.
Seismic load calculation report that shows the assumptions and parameters, giving you confidence in the results that you will be using in your design.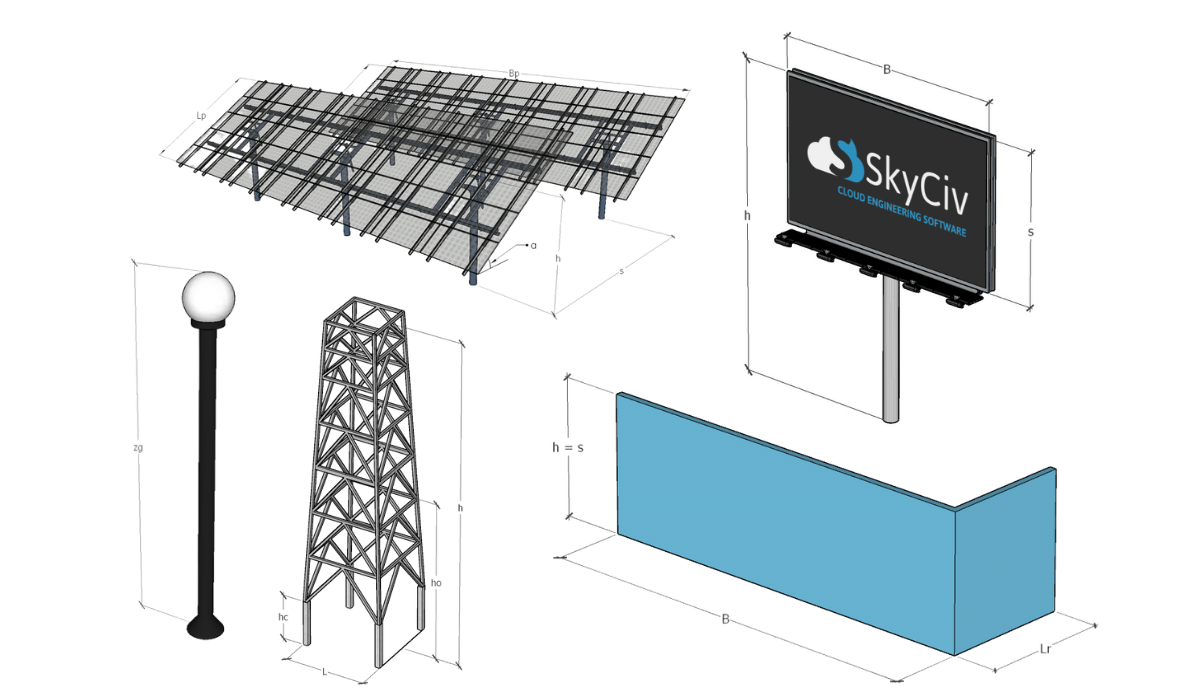 Multiple structure types
Aside from buildings, the SkyCiv Load Generator supports several structure types for wind and/or snow load calculations. These are:
Buildings
Freestanding wall (ASCE 7)
Signboards (ASCE 7 and EN 1991)
Poles (EN 1991)
Solar Panels (ASCE 7 and AS/NZS 1170)
Truss Tower (ASCE 7)
Rooftop Equipment/Structures (ASCE 7)
Generate seismic loads
The SkyCiv Load Generator module now includes seismic load calculations for ASCE 7-16, NZS 1170.5, NBCC 2020, and NSCP 2015. Determine the seismic base shear and diaphragm forces that you can apply to your structure based on site seismic parameters from USGS. Generate the design response spectrum that can be applied to your S3D model! Get the detailed seismic report with just a few clicks so you can be confident with your output.
Take advantage of speeding up your seismic design calculations using the SkyCiv Load Generator!
More benefits from SkyCiv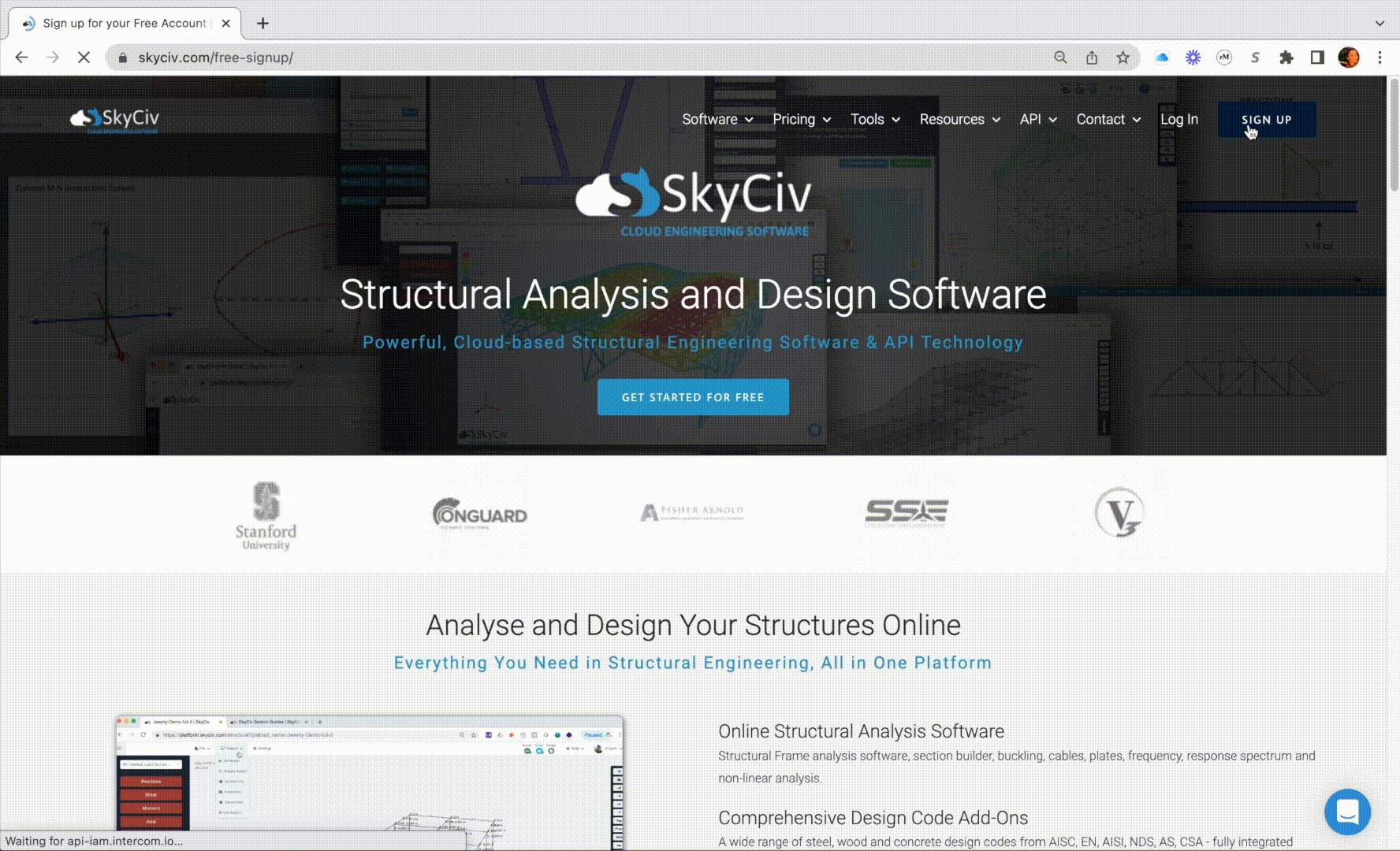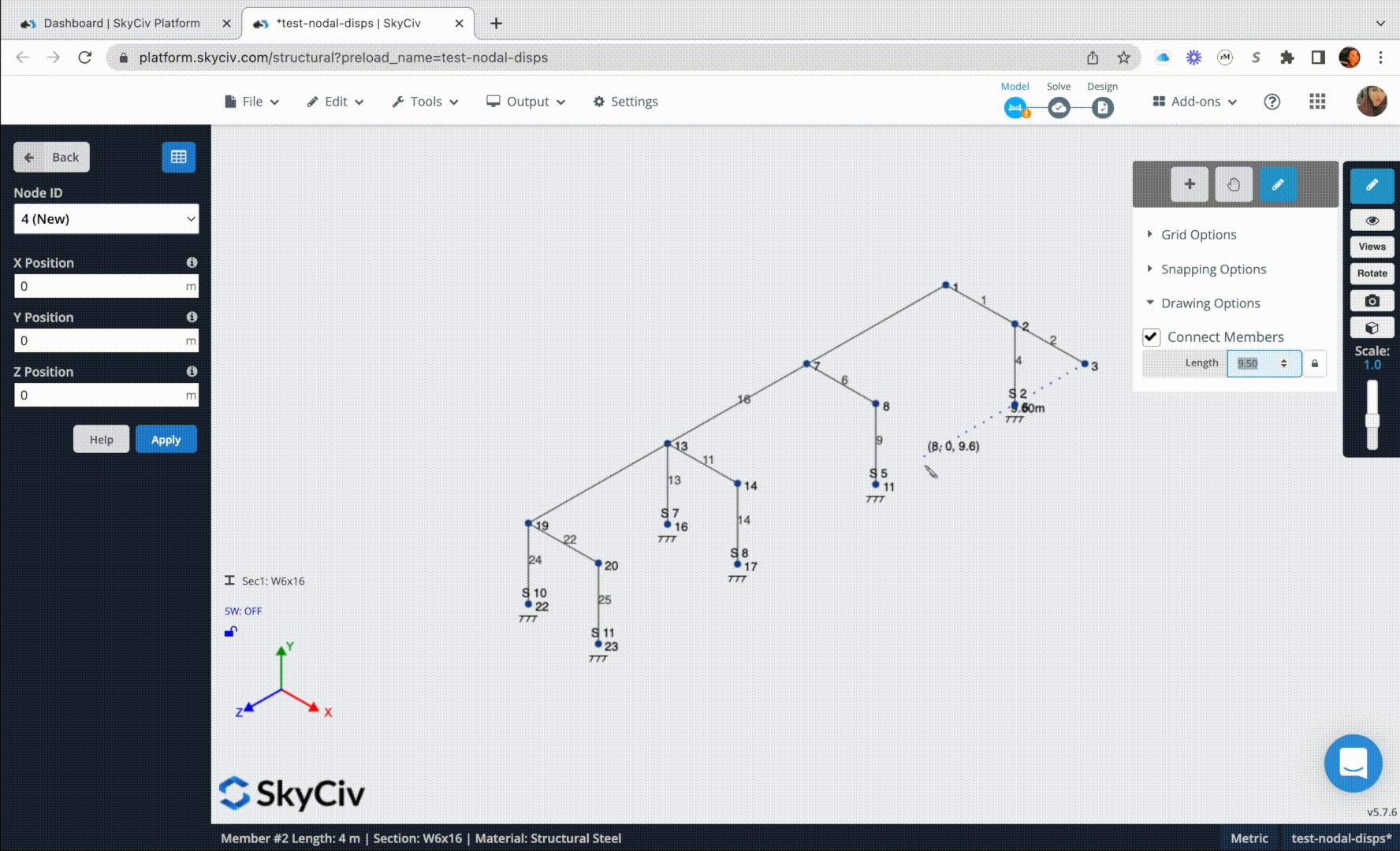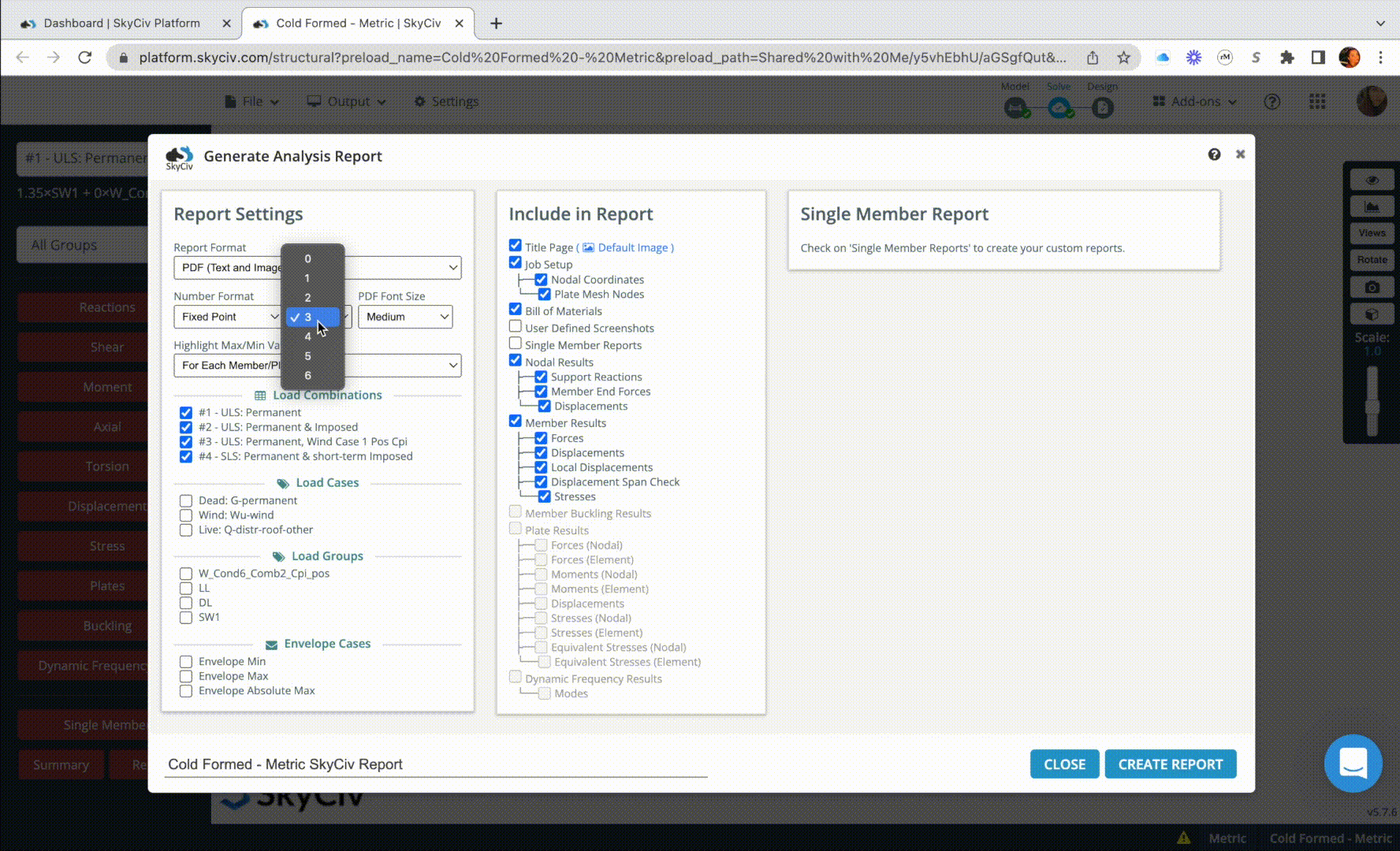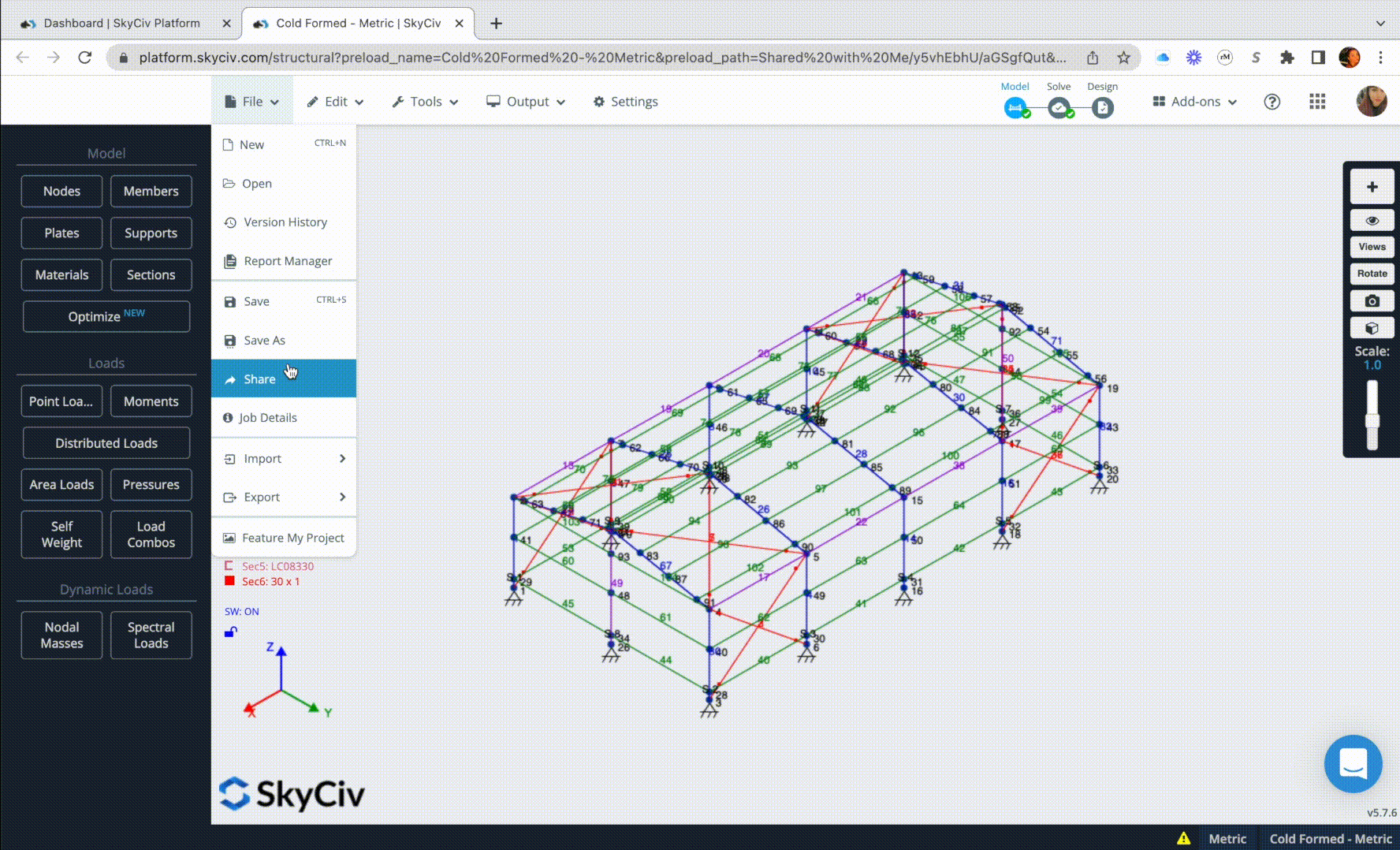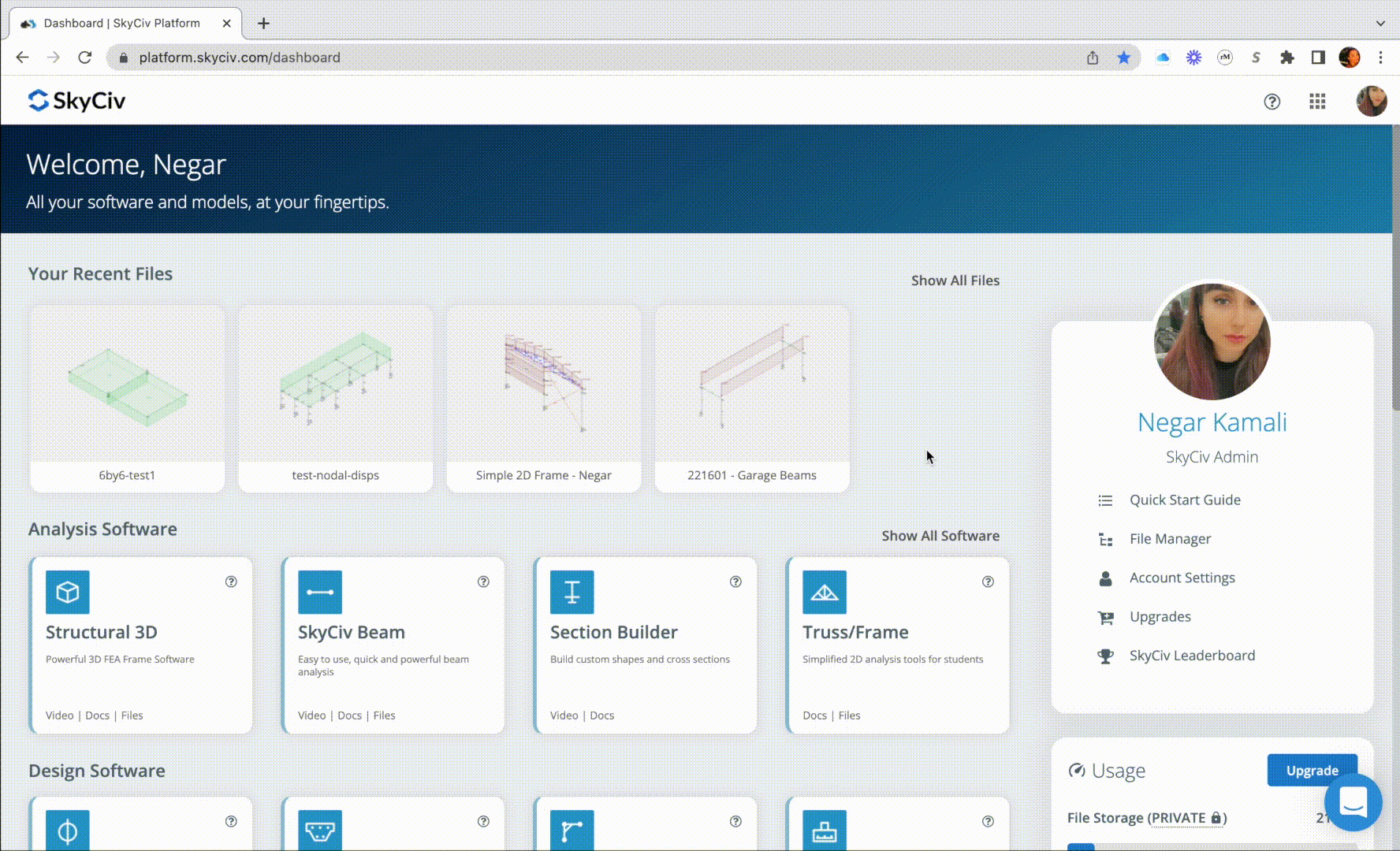 SkyCiv structural design software is 100% cloud, giving you instant access through your web browsers. Simply log into your SkyCiv account and visit the software directly. You can now access your files from anywhere and at any time.
---
SkyCiv software is built with a number of great modeling, editing, and reviewing features that help you achieve a much faster modeling workflow. These range from the pen tool, bulk editing, camera roll, and more.
Learn about SkyCiv modeling features →
---
Clear step by step calculation reports help the engineer understand exactly what the software is doing - no more blackboxes!
Learn about reporting →
---
Share and collaborate in real-time with your team using our file sharing and permission control functionalities. They also allow the SkyCiv Support team to view your models so support can never be easier.
Learn about file sharing →
---
---
"The ease of use and the presentation of the results are both awesome.
I have had ongoing interaction with the support team and
everyone is excellent!"
It is used for various civil and mechanical engineering courses and the students
love it. We are happy with the continuous updates to SkyCiv as well,
highly recommended.
"It was easily the most intuitive package available to learn; it is particularly easy to build the 3D model and define nodes, members, supports, materials, sections, then apply loads & combinations."
Included in Structural 3D