Snow and Wind Load Software
Calculate ASCE 7-16, AS 1170, NBCC 2015 and EN 1991-1-4 wind speeds, wind loads and snow loads, instantly.
View Pricing
Features
Calculate design wind loads and snow loads, in a few clicks!
Get Design Wind Speeds
Simply enter in the location, zip code or latitude/longitude of your project
Instant wind speed result based on ASCE 7-10, AS 1170, NBCC 2015 and EN 1991-1-4
Simple options for importance levels, risk categories and more
Click and drag pin to calculate wind speeds quickly
Auto calculation of Terrain Data, including topography factors
Clear elevation profile graphics to show site terrain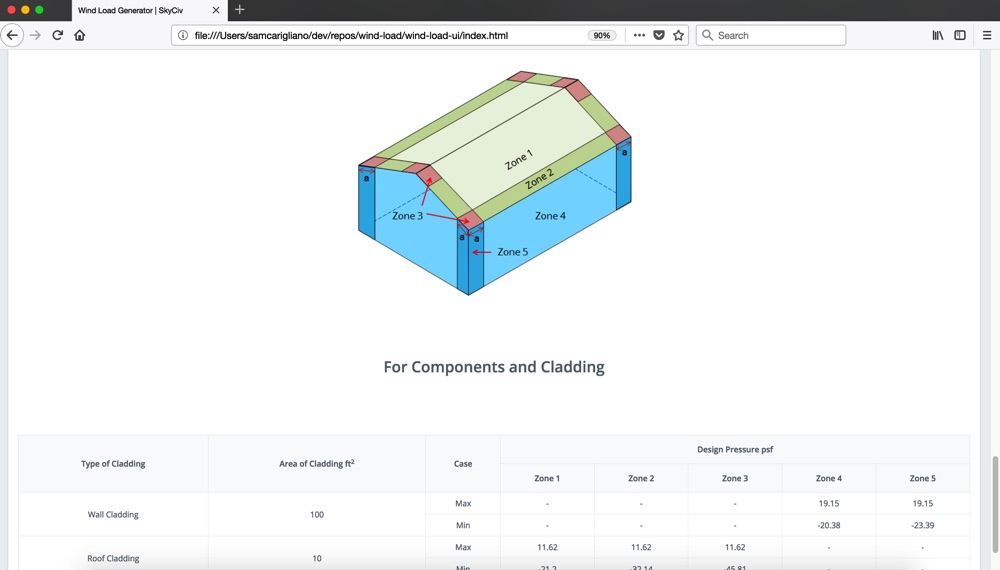 Calculate Wind Pressures as per ASCE, AS/NZS, NBCC and EN requirements
Once the wind speed has been calculated (or manually entered by the user) you can then proceed to enter in building information such as the type of structure (buildings (open and closed), sign and billboards, free standing wall etc...) and relevant structure parameters to calculate the wind pressures on your structure. This includes:
Full calculation design pressures and elevations on walls and roof
Windward, Leeward, Side wall and roof pressures
Calculation of pressure for roof and wall components and cladding
Clean and professional PDF reporting, with detailed results
Automatic Snow Loads
The SkyCiv load generator will also calculate the design snow loads and snow pressures required to be applied to your model, including:
Generate snow loads for your structure - from simple roof case to roof with projections and multilevel roofs
ASCE 7-16, NBCC, Eurocode and Australian Standards
Snow load cases for: gable, monoslope, and multilevel roofs
Simplified and intuitive snow load result figures
Viewsnow load contours on the map viewer
Use API to get the wind speeds and snow loads of the structure based on address
Use API to generate the wind and snow pressures
Add multiple load cases for easier calculation
Clean and professional PDF reporting, with detailed results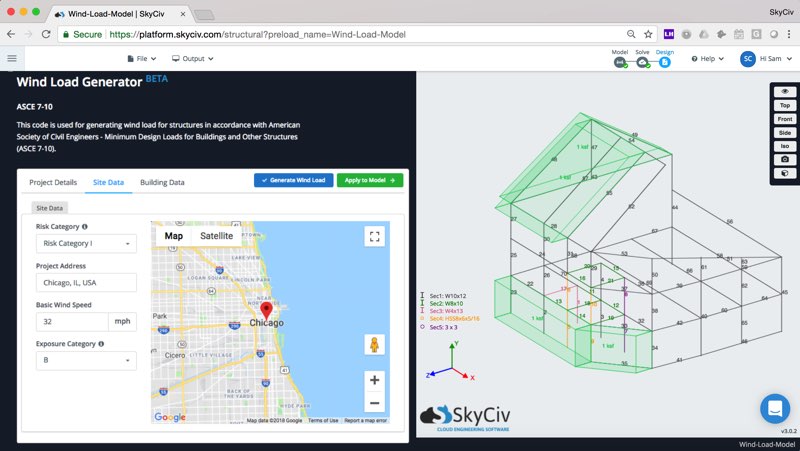 Apply Directly to your Model
The SkyCiv Wind Load module is completely integrated with SkyCiv Structural 3D, so you can instantly apply your design pressures to your structure. The software will auto calculate the tributary widths and apply DLs quickly and easily. Generate and check your wind load in a few clicks!
Simple node entries to apply the wind pressures
Dynamic Loading - as the structure changes, the wind loads adjust themselves
Auto apply load combinations and factors
Auto calculates tributary widths and applies DLs to internal members
Edit, Remove or Adjust wind loads at any time