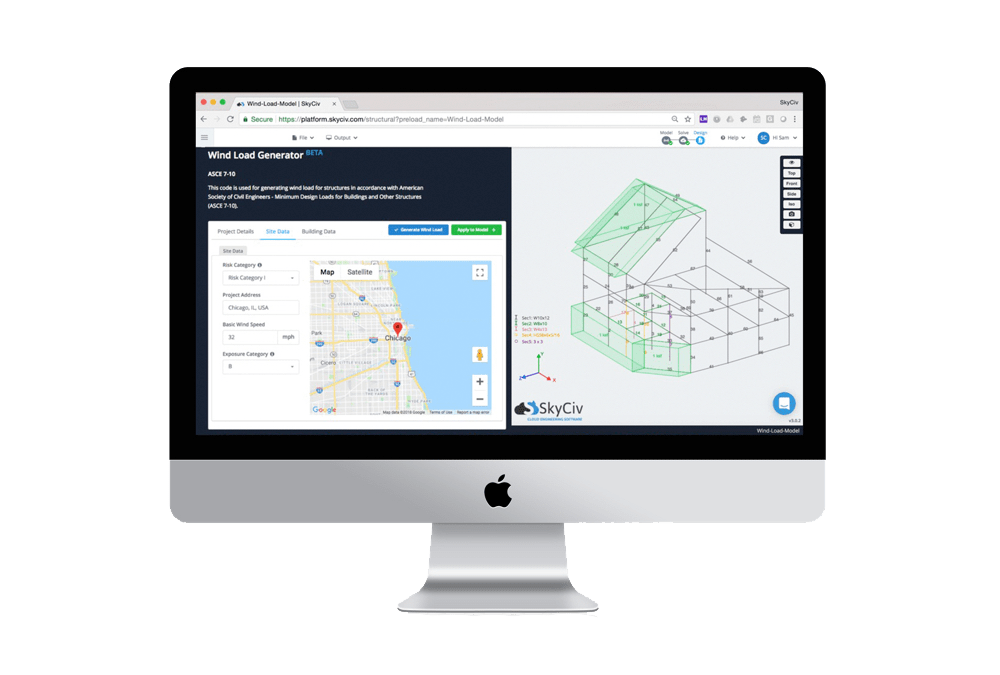 Wind and Snow Load Software
Use the SkyCiv Load Generator to quickly and easily generate wind and snow loads based on a variety of codes for your projects design criteria. Take advantage of the easy user interface to get through the calculation effectively, then print out the site reports or design load reports to a PDF for later use as a deliverable. Directly apply the design loads from the Load Generator onto your projects 3D model in Structural 3D.
Features
Powerful Structural Analysis And Design
Capabilities
Powerful and easy-to-use wind design and analysis software
Wind Speeds
Enter in US map location to get wind speeds as per ASCE 7-16
Enter in Australian/NZ locations to get wind speeds as per AS/NZ 1170
Enter in Canadian locations to get wind speeds as per NBCC 2015
Enter in European or British map location to get wind speeds as per EN 1991-1-4
Enter in Indian locations to get wind speeds as per IS 875-3
Enter in address in Philippines to get wind speeds as per NSCP 2015
Enter in address in Spain to get wind speeds as per CTE DB SE-AE
SLS + ULS wind speeds (for AS/NZS 1170)
Multiple terrain categories and wind speed directions
Multiple terrain types - flat, hill, escarpment and ridge
Wind Load Pressure Calculations
Multiple building types - open, closed, freestanding wall
Multiple roof types, including Gable, Hip and Monoslope
Pressure calculations for wall and roof claddings
Truss towers
Freestanding Walls/Solid Signs
Clean and professional PDF reporting
Step-by-step calculations
Clear diagrams and references to help apply forces
Snow Pressures
Supports NBCC, ASCE 7, Australian/NZ and European Standards
Ground Snow loads from site address
Add multiple load cases for easy calculations
Snow pressure automatically determined from site location
Multiple roof types, including Gable, Hip, Monoslope and Pitched
Clean, powerful reporting with detailed calculations
Ground snow and associated rain load calcs
Integrations
Access directly via our Wind Loading API
Apply pressures to your structural analysis model in S3D
Select nodes to apply wind loads to a particular face
Loads applied as variable Distribute Loads on the columns
Loads can be control and edited as Area Loads
Load Combinations automatically applied from AS/NZS 1170, ASCE 7-16 NBCC 2015 and EN 1991
Wind loads auto-adjust with Structural Model changes
Benefits
Faster, Easier and All-in-One.
No Installations. No Lock-ins.
Save thousands of dollars in expensive installation and ongoing maintenance. Flexible pricing, pay for what you need.
Easy Modelling
Speed up your structural modelling with easy-to-use features. Model your structure faster and easier.
Collaborate and Share
Share and collaborate on models with your team in real-time, easily control user permissions and access, and more.
"The ease of use and the presentation of the results are both awesome. I have had ongoing interaction with the support team and everyone is excellent!"
It is used for various civil and mechanical engineering courses and the students love it. We are happy with the continuous updates to SkyCiv as well, highly recommended.
"It was easily the most intuitive package available to learn; it is particularly easy to build the 3D model and define nodes, members, supports, materials, sections, then apply loads & combinations."