SkyCiv Section Builder Software
Comprehensive web-based section analysis software to analyse geometric, bending, shear and torsion properties as well as reinforced concrete design.
Comprehensive web-based section analysis software to analyse geometric, bending, shear and torsion properties as well as reinforced concrete design.
SkyCiv Section Builder
Build your sections out of multiple shapes from templates, or define your own via points, line paths, or a DXF import from CAD! Model and analyse your sections faster than ever!
SkyCiv Engineering Software is completely cloud based. This allows users to access their programs and files from a web browser, from anywhere, anytime! No need to install or update the program. This is a cost effective solution with no further costs such as maintenance or updates.
General Section Designer Plugin
The software also comes equipped with general concrete section designer, which allows you to model, analyze and design concrete sections with reinforcement. The software is powerful to take any type of section built through the Section Builder. Simply add reinforcement and analyze to get your moment and axial capacities, stress/strain results and interactive M-N curves. Click here for more information on our SkyCiv GSD plugin.
Discover key features of SkyCiv Section Builder
Standard Templates and Database of Sections
Several templates available to get you started!
Rectangular/Square
Hollow Rectangular/Square
Circular
Hollow Circular
I-beam
T-beam
L-beam (Angle)
Double Angle
Channel
Double Channel
Triangular
Hollow Triangular
Box Girder
Multiple Cold Rolled Shapes
Change dimensions via the form or dimension lines
Load from an international database of sections from USA, Australia, UK, Canada, India and Europe.
Custom Shapes
Need to model a shape not available in our templates? Specify your own custom shapes:
Points Shape: Define points and create your own polygons. Specify fillets at any point.
Line Shape: Define a line path and create a polygon with a thickness and radius.
DXF Import: Prefer to sketch in CAD first? Simply save to a DXF file and import into SkyCiv's Section Builder for analysis.
Concrete Section Designer
The SkyCiv General Section Designer plugin allows you to add reinforcement and loads to test your section's moment and axial capacities. Design your concrete sections easily, using SkyCiv General Section Designer:
Add template or custom shapes via Section Builder
Easy reinforcement input and editing capabilities
Load in common materials, or add your own custom materials
Apply multiple loads, testing more than one case in one go
Review moment and axial capacities, stress/strains, stress contours and utility ratios
Review real-time M-N interaction curves
Composite Sections
Need to model sections made up of different materials? We have you covered:
Assign individual materials to individual shapes.
Preset materials means you can select your material from a drop down list for fast entry!
Calculate section properties via the Transformed Section Method.
Original section properties also presented in comparison.
Easily model laminar beams and other built-up sections made up of different materials.
Built-Up Sections
Model your built-up section by adding multiple shapes:
Add shapes from one of our many templates.
Operations including rotation, translation, and mirroring can be used to specify relative positioning.
Calculate geometric, bending, shear, and torsion properties.
Utilises meshing and FEA to solve torsion constant and warping constant. More accurate than approximate methods which only work for some geometries.
FEA Section Analysis (Coming Soon)
Perform analysis on custom and template cross sections to calculate bending, axial, torsional and shear stresses. This in-built feature allows users to apply forces to their sections to get quick stress results. Use as a secondary check, or for more detailed analysis of complex shapes with powerful cloud FEA.
More benefits from SkyCiv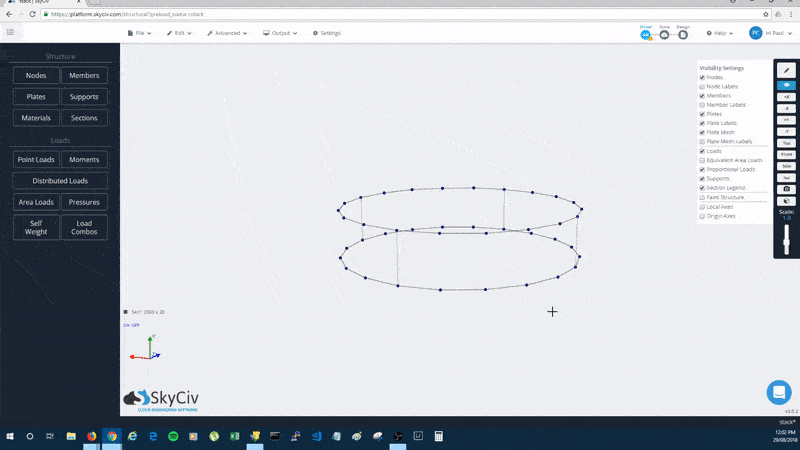 100% cloud, no installations
SkyCiv structural design software is 100% cloud, giving you instant access through your web browsers. Simply log into your SkyCiv account and visit the software directly. You can now access your files from anywhere and at any time.
SkyCiv software is built with a number of great modeling, editing, and reviewing features that help you achieve a much faster modeling workflow. These range from the pen tool, bulk editing, camera roll, and more.
Learn about SkyCiv modeling features →
SkyCiv software allows you to tailor your own analysis reports in PDF and CSV formats, with full step-by-step calculations made by the software.
Learn about reporting →
Easy collaboration & share
Share and collaborate in real-time with your team using our file sharing and permission control functionalities. They also allow the SkyCiv Support team to view your models so support can never be easier.
Learn about file sharing →
Flexible pricing, no lock-in contracts required
Case studies of real engineering projects around the world
"The ease of use and the presentation of the results are both awesome. I have had ongoing interaction with the support team and everyone is excellent!"
It is used for various civil and mechanical engineering courses and the students love it. We are happy with the continuous updates to SkyCiv as well, highly recommended.
"It was easily the most intuitive package available to learn; it is particularly easy to build the 3D model and define nodes, members, supports, materials, sections, then apply loads & combinations."