SkyCiv Base Plate Design
Base Plate Design software that is true to the SkyCiv product line - powerful, online and easy to use. This design software will allow you to model the anchors, welds, stiffeners as well as the actual base plate and concrete supports.
With quick design calculations, the software will give you a clear pass or fail for a range of design standards including American, European and Australian Standards. With comprehensive and clear step-by-step reporting, you'll also understand exactly what the software is doing. Model a range of different column base plate designs, using SkyCiv!
Features
Easy and powerful modeling, design and reporting
Full Calculation Reports
SkyCiv believes engineers should have access to all the information of their designs. This includes the calculations made by the software. SkyCiv Base Plate Design reports show the full step-by-step calculations, structural engineers can review:
References to relevant chapters and checks (for ACI / AISC, Eurocode and Australian Standards
Custom Company logo and model setup information
Detailed calculations of anchor, concrete and other checks
Relevant assumptions and failure criteria
Clear pass/fail summary results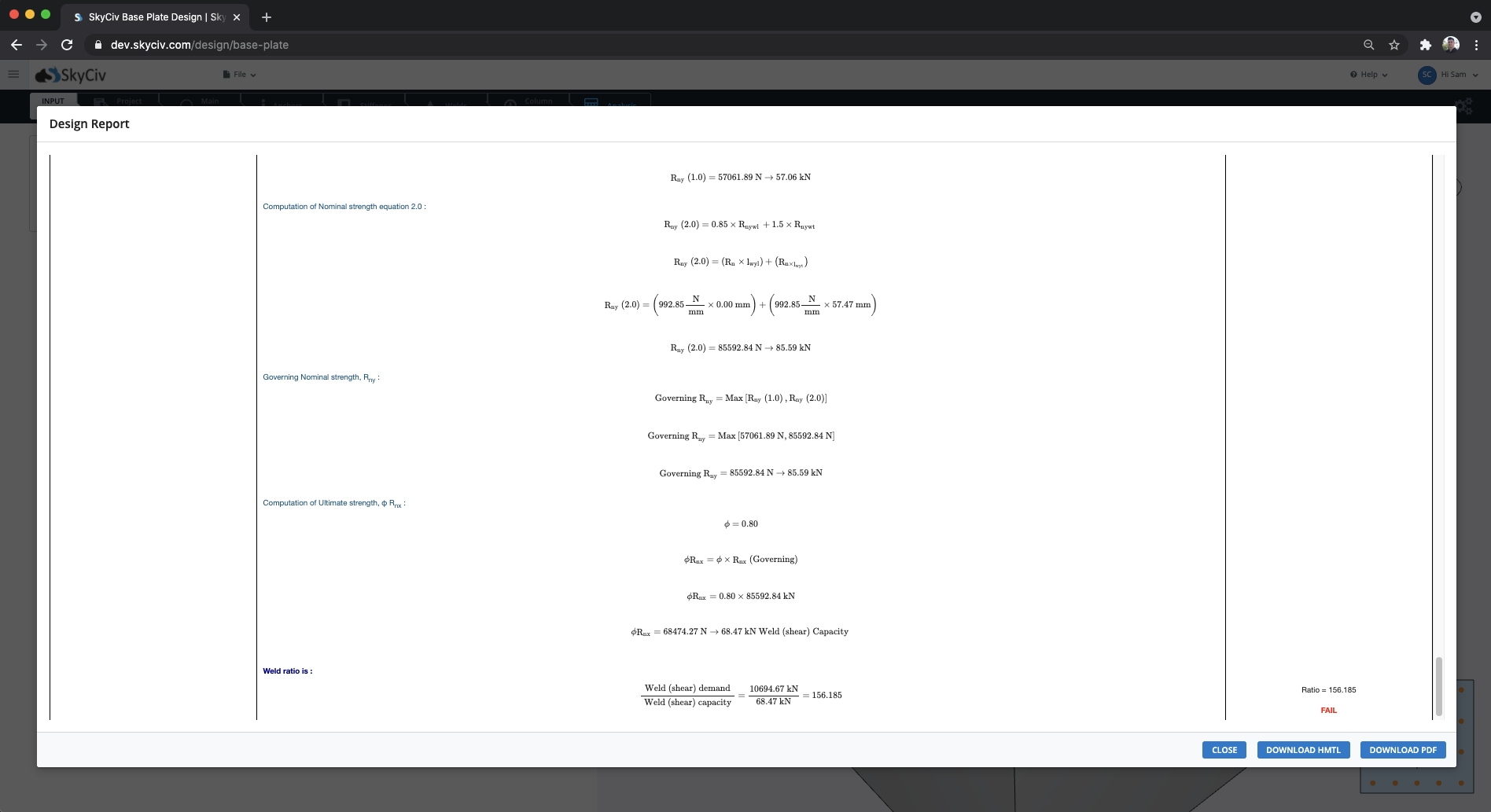 100% Online
SkyCiv structural design software is all on the cloud, which means you can get instant access simply through a web browser. There is nothing to download, install or maintain. Simply login to your SkyCiv Account and visit the column base plate design software directly. Online structural analysis software has a range of benefits over traditional software:
Instant access - there's nothing to download, no installation and no license keys
Updates are automatically rolled out to the user
Access your files and software from anywhere at anytime
Fully compatible on PC, MAC, tablets and mobile devices
Reduces the clutter on your computer
No IT requirements
Capabilities
See the power of SkyCiv Base Plate
Steel Base Plate Design Module
Steel Base Plate Connection often serves as the critical interface between steel and concrete.
SkyCiv Base Plate and Anchor Design currently supports the following capabilities when designing
Design checks in compliance with ACI 318 or AISC, Australian Standards, European and Canadian Standards

Supports multiple load cases such as Dead, Live, Earthquake, Wind and etc.

Base plate load capabilities of axial, bi-axial and uplift loads.

Built-in section libraries for Wide Flange, HSS, Pipe and Rectangular column shape type under AISC, CSA, EN and AS.

Easy Anchor bolt layout

Checks the Concrete/Pedestal design (Bearing pressure)

Checks the Steel plate design

Checks the Weld design

Checks the Design for Anchor

(Pullout, Pryout, Sideblow, Breakout)

.

Detailed step-by-step reporting with clear graphical output.

Calculation formulas and code references are visible
Benefits
Faster, Easier and All-in-One.
No Installations. No Lock-ins.
Save thousands of dollars in expensive installation and ongoing maintenance. Flexible pricing, pay for what you need.
Easy Modelling
Speed up your structural modelling with easy-to-use features. Model your structure faster and easier.
Collaborate and Share
Share and collaborate on models with your team in real-time, easily control user permissions and access, and more.
"The ease of use and the presentation of the results are both awesome. I have had ongoing interaction with the support team and everyone is excellent!"
It is used for various civil and mechanical engineering courses and the students love it. We are happy with the continuous updates to SkyCiv as well, highly recommended.
"It was easily the most intuitive package available to learn; it is particularly easy to build the 3D model and define nodes, members, supports, materials, sections, then apply loads & combinations."