Structural Steel Connection Design
SkyCiv Structural Steel Connection Design software offers prescriptive design calculations and checks as per the AISC 360-10 design code, for both ASD and LRFD as well as Eurocode 3 Design Standards. The structural design software is completely cloud-based, so there's nothing to download or install, and is run right from within your browser. Eurocode Connection Design and AISC Connection Design, right from your browser.
Discover key features of SkyCiv Steel Connection Design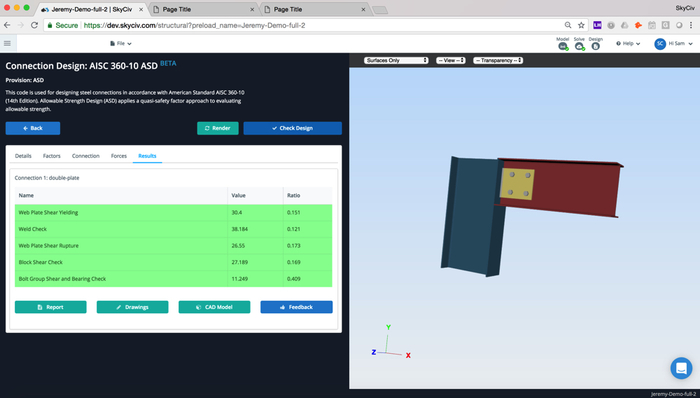 Design Connections with AISC 360 & EN3
The SkyCiv structural steel connection design software has the following great features:
Range of connection types, including W-W and HSS-W standard connections
Full 3D rendering to show bolts, plates and sections
Prescriptive AISC 360 and Eurocode 3 checks for Shear and Moment Calculations
Professional Drawings
Export file as CAD (STEP) 3D model
Clear summary of design results with green and red pass/fail results
Detailed documentation with videos and tutorials on how to use the software.
Powerful Graphics
Review your 3D model so you can see the various parts of the model in 3D space. The Connection Design module will also generate a full CAD file for you to export or send off to the draftsperson for final drawings. Don't have CAD? You can produce drawings directly from within the SkyCiv Connection Design module!
Generate full CAD files (STEP) with bolt, plate and member connection assemblies
Produce clear drawings directly from the module
Clear and easy 2D references for user input
Full 3D rendering display with wireframe and viewing settings
Integrated with SkyCiv Structural 3D
All your connections forces and member properties are automatically imported into the SkyCiv Connection module - so you can view your model and connections at the same time.
Connections display on the graphical interface
Forces automatically imported from structural analysis model
Supports load combinations from ASCE 7-10, AS 1170, EN1 and CSA
Changes to your analysis model are auto-adjusted within the design module
Class and group steel connections together, to complete one design for multiple connections
Review all Connection Designs in 3D model with green/red/yellow result summaries
Full capabilities for everything you need in steel connection design

Shear Connections

Single Angle (all bolted or all welded)
Single Angle (bolted/welded)
Double Plate (all bolted or all welded)
Double Plate (bolted/welded)
Single Plate (welded/bolted)
Single Plate (all welded)
Double Plate (welded/bolted)
Double Plate (all welded)
Single WT (all welded or welded/bolted)
Single Seat

Moment Connections

The following Moment Connections are supported under EN 3 and AISC 360-10 ASD and LRFD design provisions:
Welded Flanges
Flange Plate (Bolted/Welded)
Flange Plate (All Welded)
Through Plate
Collared Plate
Double WT (all welded or welded/bolted)
Directly Welded

HSS Connections

SkyCiv Connection Design can design the following HSS to W shape connections under AISC and Eurocode Design Standards:
Single Seat Connections
Single Angle (all bolted or all welded or welded/bolted)
Double Angle (all bolted or all welded or welded/bolted)
Single Plate (all welded or welded/bolted)
Single WT (all welded or welded/bolted)
Through Plate
Cutout/Collared Plate
Double WT (all welded or welded/bolted)
Directly Welded

Integrations

SkyCiv Connection Design is fully integrated with SkyCiv Structural 3D - our fully featured, powerful structural analysis software:
Run Connection Design Checks with a single Click
Integrated load combinations from ASCE 7-10, EN1990, AS1170 plus more
Loads, Combinations, Sections and Materials automatically imported
Multiple analysis solvers, including buckling and non-linear analysis
View successfully checked connections on your model with green, yellow and red results
List of connection design results and summaries
Export STEP file to import directly into CAD
More benefits from SkyCiv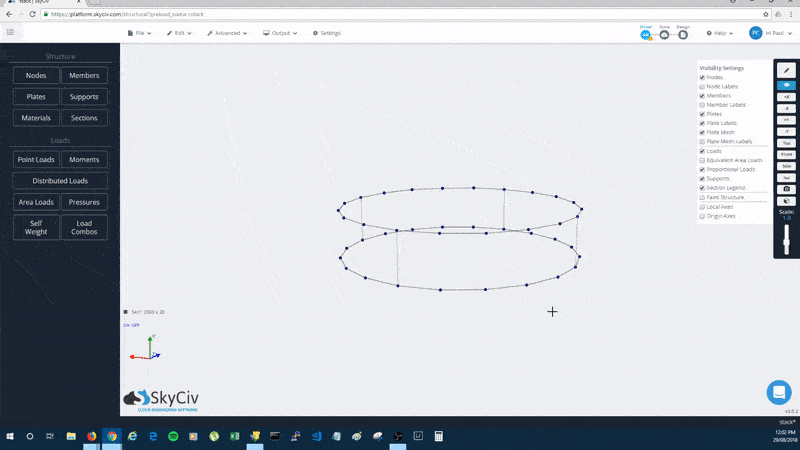 100% cloud, no installations
SkyCiv structural design software is 100% cloud, giving you instant access through your web browsers. Simply log into your SkyCiv account and visit the software directly. You can now access your files from anywhere and at any time.
SkyCiv software is built with a number of great modeling, editing, and reviewing features that help you achieve a much faster modeling workflow. These range from the pen tool, bulk editing, camera roll, and more.
Learn about SkyCiv modeling features →
SkyCiv software allows you to tailor your own analysis reports in PDF and CSV formats, with full step-by-step calculations made by the software.
Learn about reporting →
Easy collaboration & share
Share and collaborate in real-time with your team using our file sharing and permission control functionalities. They also allow the SkyCiv Support team to view your models so support can never be easier.
Learn about file sharing →
Flexible pricing, no lock-in contracts required
"The ease of use and the presentation of the results are both awesome. I have had ongoing interaction with the support team and everyone is excellent!"
It is used for various civil and mechanical engineering courses and the students love it. We are happy with the continuous updates to SkyCiv as well, highly recommended.
"It was easily the most intuitive package available to learn; it is particularly easy to build the 3D model and define nodes, members, supports, materials, sections, then apply loads & combinations."