Software for Mechanical Engineering
Powerful and easy to use, analyze your structures in minutes!
Single Member Report
Quick Shaft
Custom Section Builder
The Work of Structural Engineers
Mechanical engineering is a broad engineering discipline that applies the principles of engineering, physics, and materials science for the design, analysis, manufacturing, and maintenance of mechanical systems. Mechanical engineers have a solid understanding of mechanics, kinematics, thermodynamics, materials science, electricity and structural analysis, and their work generally involves the design, production, and operation of machinery.
A Solid Structural Analysis Software for Mechanical Engineers
Mechanical Engineers often rely on CAD and Simulation to analyze structures; however, when conducting design and structural analysis, SkyCiv Structural Analysis Software is a solid solution in ensuring structural integrity, helping you perform design, stress, vibration and fatigue analysis of structures in a quick and affordable way. Our advanced and easy-to-master modelling features allow you to analyze a frame or member-based structure in a matter of minutes, not hours!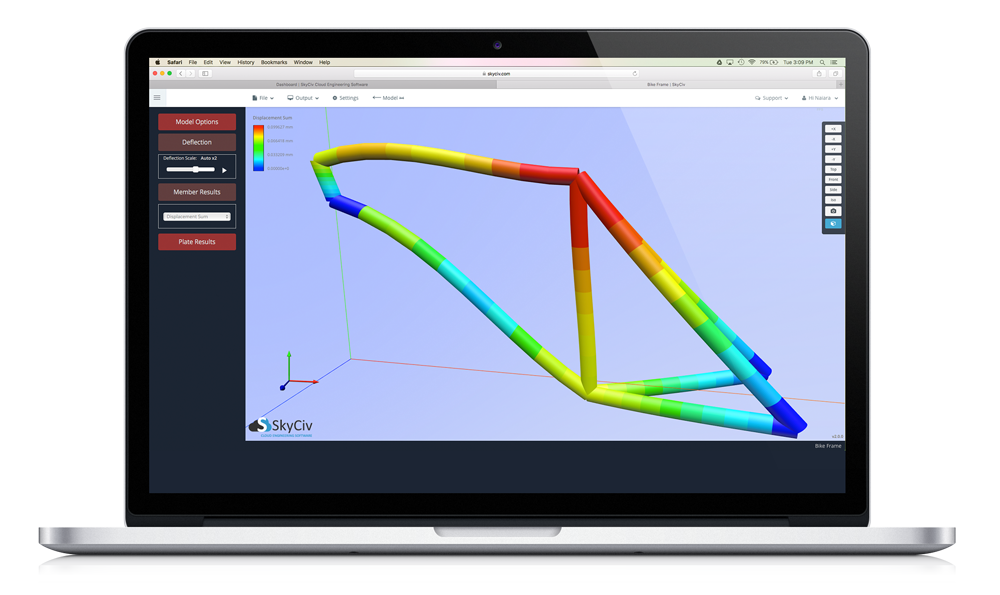 Fast and Reliable: Collaborating using SkyCiv
The ability to access the latest version of a file is important when you work in a multi-disciplinary team, and contribute to the development of methods for probabilistic design to mechanical structures and systems. <.p>

A shared folder with your team members can save you time and FTP headaches. On a detailed job with pressure and deadlines, every second counts!
Structural 3D
Beam
Section Builder
Truss/Frame
Why SkyCiv
Powerful Analysis Software for Mechanical Engineers
Single Member Report
Export single member analysis reports in an easy and professional format to pass on to your client or fellow engineer. Include your own screenshots and focus on your key members. Full structure results as well as isolating members for full analysis.
Quick Shaft Design
Design and analyse complex shafts in a matter of seconds. Easily apply and analyse critical stress concentrations to ensure the safety of your shaft. Results presented in a clean report-like format with reactions at bearings, BMD, SFD, Stresses and Deflection calculations.
Customs Section Builder
Define custom shapes, assign custom materials to your shapes and perform complex section calculations in a matter of seconds with SkyCiv's Section Builder.